Local grocery store feeds families for the holidays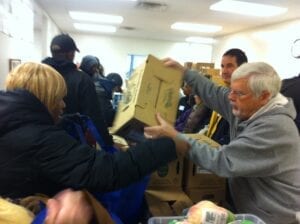 Healthy supermarket, Earth Fare, in Turkey Creek donated 93 turkeys to local families in need this Thanksgiving season.
The store started donations during the first week of November and carried through until the day before Thanksgiving, just in time to meet their goal of 90 turkeys.
"Each year we expand our goal and donate more turkeys to local families," said Liz Hatcher, Earth Fare's human resource manager in Turkey Creek. "Last year we donated around 70 turkeys, which we've exceeded this year by more than 20. That's 20 more families with a turkey on their table this year, and that's amazing."
The health foods grocery store has two locations in Knoxville, one in Turkey Creek and the other in the Bearden area. This is the fourth year that the company has held a Thanksgiving turkey drive. Earth Fare has locations all throughout the Southeast, and the money donated to every individual store benefits each of the local communities.
Frequent shopper, Brenda Carlson, 47, said, "I think it's great that Earth Fare dedicates this time of year to giving back to families in need. I think a lot of people want to donate but don't know where to start, so it's great that you can give back to a local cause on a regular trip to the grocery store."
The branch in Turkey Creek donated their never frozen, hormone and antibiotic-free, 100 percent natural turkeys to Fish Hospitality Pantries, a local volunteer based non-profit organization that, "currently provides food packages to over 11,000 families each month from four Knoxville locations based where they are accessible to people most in need," according to their website, FishPantry.org.
Edited by Jennifer Brake