TNZN: Top 5 soups in Knoxville this season
The fall season is upon us and there's no better way to warm up than with a hardy bowl of soup. I have selected what I think are the top 5 best soups for the fall season.
Carrabba's

sausage and lentil soup

. This soup is the most amazing thing I've had at Carrabba's. It has a plethora of Italian ingredients including roma tomatoes, lentils and Italian sausage. It's the epitome of a comfort food that could easily become a meal. I'm not even Italian, but when I taste this soup I get flashes of what my imagined Italian childhood would be like. All jokes aside, I cannot describe how delicious this soup is. You'll just have to try it for yourself.
Tupelo Honey Café's

creamy onion soup

paired with a double grilled cheese is the ultimate comfort meal. The soup is perfectly described with its title. It is creamy, oniony, with hints of pepper to tie all the flavors together. While the grilled cheese is an added bonus the soup is definitely the star of the show.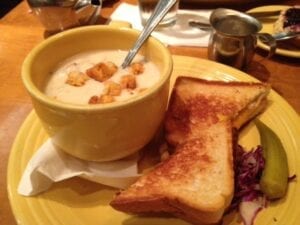 3. Tea at the Gallery's french onion soup. Okay, I know what you're thinking another onion soup. Well, it seems the onion rules the soup kingdom or at least in this list it does. Either way this soup is utterly delicious. It's a simple dark roux onion broth topped with croutons and provolone cheese. The saddest part about this soup is you can never get it at Tea at the Gallery again because the tea house has closed. Outback Steakhouse, though, offers a decent alternative. May the tea house rest in peace. Its soup will always be remembered.
4. P.F. Chang's

egg drop soup

. I've tried many versions of egg drop soup and I do believe that P. F. Chang's version is the healthiest and by far tastiest (please don't tell my Asian grandmother). It is topped with thin, crisp wonton strips. The soup has bits of carrot incorporated into the broth which is pretty uncommon for a traditional egg drop soup. This unique quality works for the soup rather than against it.

All fall comfort food is represented in this trio from Tea at the Gallery. French onion soup, chicken pecan quiche and aprioct bread pudding come together in this delicious fall meal.
Jessica Carr/TNJN
5. Calhoun's turkey chili. When I think of chili, I think of a thick, meaty soup that will most likely be served as my meal. Calhoun's turkey chili fits this ideal to the last bite. It is topped with thin tortilla strips. The chili itself has a real fiesta vibe going on. It incorporates Mexican food flavors with that of a traditional chili.
There you have it, the top 5 soups for the fall season. All five of these soups are sure to warm up the tummy and the soul with every bite. Stay warm and happy eating!
Edited by Nichole Stevens