Knoxville pole dancing offers alternative form of exercise
The inside of 107 West Main Street, Suite 203 is filled with poles – 10 silver poles. The left side walls are covered with mirrors, and spray bottles and towels sit on several shelves. A chalkboard on the far side of the room advertises "Abs & A** April Squat Challenge." Music plays as women stretch and practice the pole swings they learned last session.
This is the heart of Sheer Inspiration Pole Fitness. Natasha Fine, the owner and principal instructor, said she wants to share her passion for pole with the women of Knoxville.
"I love what I do," Natasha Fine said. "It's a joy to be able to do something I love so much and to share something you're so passionate about."
Pole fitness instruction is Fine's way of exercising with the women of Knoxville in a way they may have never considered before. Pole fitness instruction targets the arms, legs, back and abdominals. Practicing a spin can target up to five muscle groups at once. Strength and flexibility are also increased during instruction, and Fine says the progress never stops.
"You never plateau with it. I've been doing this for 12 years and I just get stronger every week," Fine said. "There's new moves every week. It constantly evolves."
Fine has 12 years of experience with pole and aerial arts. She was a gymnast as a child and has always had an interest in the aerial arts, including trapeze and silks, which is a circus art where a performer hangs and performs acrobatics while suspended by a special fabric.
"I just like being in the air," Fine said.
Her instruction started off small: one girl and one pole in the bonus room of her home. Fine taught this way for five years. Then a friend asked her to teach her some moves, so she moved to pairs then groups. Eventually, her business outgrew her bonus room.
Fine spent three years planning her business and building her clientele before moving into the building downtown. After a month of gutting ceilings and floors, 107 West Main Street was move-in ready. By the end of April 2013,  she'd been instructing women from the building for three weeks.
Women of all shapes, sizes and ages are welcomed at Sheer Inspiration. Fine has had clients as young as 8 and old as 65.
Her list of classes includes whole body and pole, movement and flow group classes, yoga, chair/lap dance tutorials, "poleography" or choreography for pole dancing and beginner "drop in" classes where women take one lesson to see if they are interested in signing up for classes.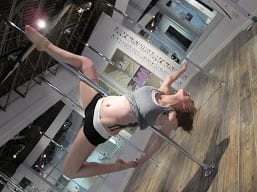 Fine holds private sessions as well as workshops. All classes can be done individually, in pairs or in groups. Sessions typically last between 45 minutes and one hour. Fine offers various packages, in which clients take anywhere between four and 15 classes with a price range of $140-$400.  She also offers "Pole Parties," which range from 1.5-3 hours long and cost between $100-$350.
One of her clients, Sarah Davis, has taken private instruction for almost a year. Davis said the classes opened her eyes to her body's capabilities and improved her strength.
"Honestly, I didn't know my body could move like that," Davis said. "I didn't know it was capable of what it is capable of. And of course, I get stronger. I'm a beast."
Debbie Stokey, a beginning student, has been taking classes with Fine for three weeks. She said she enjoys the challenge pole instruction presents.
"I could not find another form of exercise I thought would be more self-gratifying than this, no matter what stipulations people put on it," Stokey said. "I was taking all the other classes. . . but this is completely different."
Sheer Inspiration's website has class descriptions, pricing, calendars, policies and more. Fine can be reached at finenatasha@yahoo.com or by phone at 865-293-9996.
While Fine's mission can be explained many different ways, the slogan on the back of her business card sums it up well: "Sheer Inspiration Pole Fitness. For Strength, Balance & Self. Live – Love – Pole."
Edited by Jennifer Brake
News editor, Courtney Anderson, has been telling stories for as long as she can remember. From scribbling short stories on the back of pamphlets to excelling in Advanced Placement English courses in high school, Anderson has always been determined to make a career out of writing. Anderson joined TNJN as a freshman and instantly fell in love with online news. She hopes to become an editor for a major online news source one day.