Knoxville Children's Theatre presents Disney's 'Mulan'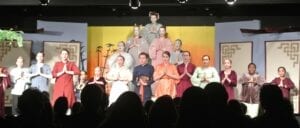 Knoxville Children's Theatre is currently presenting Disney's "Mulan" throughout Sept.- Oct. 2013. The theatre is located at 109 E. Churchwell Avenue.
It is a live musical performance directed by Caroline King, featuring young actors from surrounding elementary, middle and high schools. Many are already veteran performers and some making their first time debuts.
The show takes place in a small intimate room, and tells the story of a brave young woman struggling to overcome the obstacles presented to her by unlucky circumstances in addition to the social customs of Ancient China.
The young actors show talent and enthusiasm, engaging the audience from start to finish and provoking laughter along the way.
Abbey Easton, a young audience member loved the show. "I really enjoyed the show, it was really funny. I laughed a lot," said Easton.
Aiden Terflinger, a 14-year-old student at Harden Valley Academy, plays Fa Zhou.  Terflinger talks about the work he has put into the role. Terflinger said, "It's pretty painstaking. It takes a while, with homework and stuff and having two hours to do it. It's not easy. But it's fun. It's worth it. It's totally worth it." Mulan will be Aiden's sixth performance with KCT.
Many songs from the Disney classic were featured like "Reflection" and "I'll Make a Man Outta You." The play is directly based off of the 1998 Disney film.
Future show times are Sept. 26-27 at 7 p.m., Sept. 28 at 1 p.m. & 5 p.m., Sept. 29 at 3 p.m., Oct. 3-4 at p.m. and Oct. 5 at 1p.m. & 5 p.m. The Knoxville Children's Theatre suggests you reserve your ticket before hand by calling (865) 599-5284 between the hours of 1 p.m.- 5 p.m. Tickets are $12 per person. For more information click here.
Edited by Jessica Carr