U.S. News ranks University of Tennessee 47th among all public universities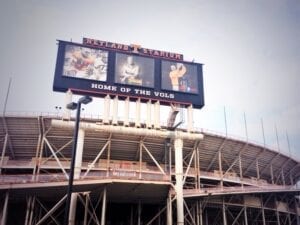 The U.S. News and World Report's 2014 rankings of national and public universities has officially been released and the University of Tennessee was ranked 101st among all national universities- the same result as previous rankings. UT was also ranked 47th among all public universities, which is down one spot from previous rankings.
In addition to the university's results as a whole- the undergraduate business program was ranked 27th among all public universities, and 47th nationally. The undergraduate engineering program was ranked 37th among all public universities, and 65th nationally.
The rankings are determined from a variety of several factors. Some of the factors that UT showed improvement on this year included a higher six-year graduation rate, more classes with less than 20 students, faculty resources, alumni giving, and a better assessment from high school counselors. The specific key to success in the rankings is a higher graduation rate. Assistant Director of Media Relations, Amy Blakely, provided some insights on the progression that is being made towards this goal. "Improving our graduation rate is important for students and the university; it is a big part of our Top 25 journey. We've made significant gains over the past few years- our six-year graduation rate is now 66 percent, up from 60 percent three years ago- and we're working hard to continue that improvement."
"This fall, we implemented our new 'Take 15, Graduate in 4' tuition model for all full-time freshman and transfer students. It requires students to pay for fifteen hours regardless of how many hours they take, because you must take fifteen hours per semester if you are going to graduate in four years," said Blakely. In addition to this plan she shared that, "We've also hired additional instructors for high-demand courses to ease bottlenecks, and we've implemented uTrack, a schedule monitoring system that will help students stay on track to an on-time graduation."
As we all know, the goal for UT is to become a top 25 public research university. UT has created a three part vision that assists in striving towards this standard of excellence- value creation, original ideas, and leadership. With visions such as these being demonstrated- we are most certainly well on our way to achieving our goal.
Edited by Zach Dennis